Main Content
Finished Projects
Encouraging Customers in Indonesia to use Eco-friendly Bags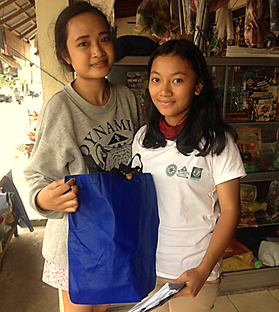 Contact person: Lukas Kampenhuber and Björn Vollan
This research is part of a larger project carried out with the Leibniz Centre for Tropical Marine Ecology in Bremen. Altogether we have implemented three different natural field experiments on the adoption or environmentally friendly shopping bag. Read more about the first two experiments on Roger Spranz's blog 'cracklefree'.
Local grocery supply in Indonesia is mainly provided by small shops, so called warungs. Many of these shops only serve a very small amount of customers, including their local neighbors and people living nearby. Although an increasing number of franchising Mini-Markets and Super-Markets are taking over, to date traditional warungs and markets still account for more than half of Indonesian grocery shopping. It is very common that purchased items get packed into numerous plastic bags, and it remains an open secret that a high amount of plastic bag waste is not appropriately disposed or recycled. As a result, many of the freely distributed plastic bags end on the streets, fields and woods of Bali, waiting for the next rain to flush them into the rivers or the ocean.   To have a further understanding of how to challenge the dangers of plastic bag disposal, a team of 15 Indonesian students conducted a survey in 15 villages in Tabanan Regency in Bali. This region was chosen since most Indonesians also live in rural areas. The area stretches from the coast up to the mountains and represents a rural area of Western Bali away from the tourism dominated south of the Island. Each village was randomly chosen out of a pool of villages that had 10000 inhabitants or less. 
In each village, customers of the villages' largest warung were asked to complete a survey after their purchase in the shop. Each customer who agreed to purchase a bag (the price was 2000 IDR) got a booklet that was part of a customer loyalty program where customers could collect up to five stickers within two and a half weeks. They were only awarded a sticker if they went shopping with the reusable bag that was given to them and they did not take any additional plastic bags with them. Therefore it was assured, that customers who got a sticker did not take any plastic bags with them after their purchase.
Depending on the treatment, customers were also rewarded with either an individual reward or a social reward (donation to a charity) if they managed to collect five stickers. Overall the experiment had five different treatment types.
Thanks to the diligence and hard work of the local students from Udayana University and the support of Professor Mimba it was possible to reach all previously defined targets within the defined time frame the experiment was planned. With that, the last phase of the experiment can begin – analyzing and interpreting the data collected.
External collaborators:
Manuela Oberauer
Roger Spranz
Achim Schlüter
Political Economy and Leadership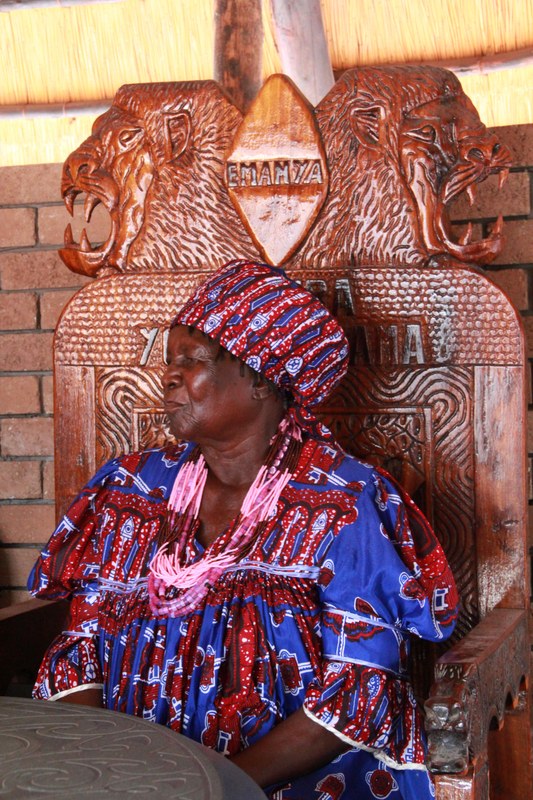 Leadership structures play a key role for successful self-governance of natural resources. Leaders are responsible for drafting and enforcing rules concerning resource management and may strongly influence behavior of other resource users. The quality of leadership is also crucial for the success of decentralization reforms that have been initiated across the world in the last two decades and that are often accompanied with the creation of elected councils on the lowest level of governance responsible for managing public goods and natural resources. Decentralization and democratization reforms may improve local public good provision, but they are also prone to power abuse, nepotism, arbitrary rule enforcement, and other forms of misbehavior of leaders that may undermine trust and cooperation among community members and impede sustainable resource management.
This study provides experimental evidence from 32 communities in Northern Namibia on the nepotistic use of punishment and procedural fairness of local leaders. In the study area, decentralization reforms have created a coexistence of democratically legitimized leaders responsible for water management and traditional authorities, who inherit their position and have the power to allocate land to resource users. In addition, the project investigates whether leadership strategies and leaders' personality traits have explanatory power for the real-life performance of leaders and whether local villagers' perceptions about resource availability have an impact on the election of different types of leaders.  The results of this project contribute to the broad strands of literature on leadership, decentralization policies and common-pool resource management.
The study was carried out in the Ohangwena region in northern Namibia in summer 2014. In this area, the majority of inhabitants, about 80% of participants, are pastoralists who strongly depend on the availability of grazing and water resources. Access to and the management of these resources is regulated both by traditional and democratically elected leaders. The study employed three local research assistants who are native Oukwwanyama, born and raised in the study area, but currently enrolled at the University of Namibia (UNAM) in Windhoek, the capital city of Namibia. We use a combination of lab-in-the field experiments and surveys to answer our research questions:
Is 'nepotism' more prevalent under democratically legitimized or traditional forms of leadership?
Do democratically elected leaders place procedural justice before self-privileges to a larger extent than traditional leaders?
We are right now in the process of evaluating the data and questionnaires. Preliminary results show that democratic leaders punish non-cooperative behavior of villagers more frequently but less intensively than traditional authorities. We further observe that traditional leaders are more likely to engage in discriminatory or vengeful punishment practices if their own relatives rather than non-related villagers are exploited by someone else. Similar patterns are not observed for democratically elected leaders. However, while traditional leaders seem to be less tolerant of harmful behavior directed towards their own blood compared to democratically elected leaders, they are not lenient with their relatives if those misbehave. Indeed, and in contrast to our second hypothesis, we find no evidence that TLs reprieve norm violating relatives.
The results of this project were published in Science Advances in 2020:

Vollan, Blanco, Steimanis, Petutschnig & Prediger (2020) "Procedural fairness and nepotism among traditional and democratic leaders in rural Namibia", Science Advances, Vol. 6, no. 15, DOI: 10.1126/sciadv.aay7651
https://advances.sciencemag.org/content/6/15/eaay7651
External collaborators:
Sebastian Prediger
Esther Blanco