Marie Neubert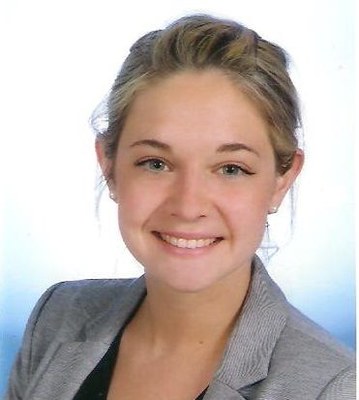 Doctoral Candidate, IPAM-Therapeut/in
Contact information
+49 6421 28-23765
marie.neubert@staff 1
Gutenbergstraße 18




35032

Marburg




G|01 Institutsgebäude

(Room: 03060 resp. +3060)
Research Interests 
Subjective social status
Social influences on pain
Psychophysiology
Procrastination
Curriculum Vitae
Since 10/2016
PhD in Psychology (Dr. rer. nat.), Philipps University of Marburg, Department of Psychology, Division of Clinical Psychology and Psychological Treatment
Advisor: Prof. Dr. Frank Euteneuer

Since 10/2016
Postgraduate training in cognitive behavioral therapy, Institut für Psychotherapieausbildung Marburg (IPAM)

10/2014 – 08/2016
Master in Psychology (M.Sc.), University of Jena

04/2011 – 06/2014
Bachelor in Psychology (B.Sc.), University of Mainz

Since 12/2018
Research Fellow, Philipps University of Marburg, Department of Psychology, Division of Clinical Psychology and Psychological Treatment

10/2016 – 11/2018
PhD-Scholarship, Philipps University of Marburg, Department of Psychology, Division of Clinical Psychology and Psychological Treatment

Since 10/2016
Clinical Psychologist, Outpatient Clinic for Psychological Interventions, Psychotherapie Ambulanz Marburg (PAM)

10/2017 – 03/2018
Course "Diagnostics in Clinical Psychology", Department of Clinical Psychology and Psychotherapy, Philipps-University of Marburg, Germany

04/2018 – 09/2018
Course "Different approaches in Psychotherapy", Department of Clinical Psychology and Psychotherapy, Philipps-University of Marburg, Germany

04/2019 – 09/2019
Course "Psychocardiology", Department of Clinical Psychology and Psychotherapy, Philipps-University of Marburg, Germany
Publications
Neubert, M., Euteneuer, F., Rief, W., & Suessenbach, P. (2018, October). UNEMPLOYMENT AND MENTAL HEALTH: THE ROLE OF SUBJECTIVE SOCIAL STATUS IN THE GERMAN POPULATION. In INTERNATIONAL JOURNAL OF BEHAVIORAL MEDICINE (Vol. 25, pp. S164-S164). 233 SPRING ST, NEW YORK, NY 10013 USA: SPRINGER.
Hint:
In case of inaccurate personal data, please inform the appropriate Personnel Data Agent.
1
The email addresses are only selectable in the intranet. To complete an email address, merge following string ".uni-marburg.de" or "uni-marburg.de" to the end of the email address.