Main Content
P7 - Ground Beetles as human-independent lanscape proxy
PI: Lars Opgenoorth, Joachim Schmidt| Yitbarek Wolde-Hawariat Gessese, Tesfaye Kassahun
PhD-Student: Yeshitla Merene
Overview
Spatially explicit reconstruction of refugia and LGM temperature depressions in the Bale Mountains will be done on the basis of ground beetle phylogeography and phylogenetics. Ground beetles are a proxy that is independent of the human signal as they live close to the ground and are not hunted. They occur in sufficient species abundances and with strict ecological envelopes that they will allow a reconstruction of biome specific refugia reconstruction, as well as LGM temperature reconstruction.
Achievements
Local endemism in ground beetle lineages and adaptive mechanism during the past
Ground beetle data indicate change of climatic condictions in the Ethiopian Highlands during the past
Objectives
Detailed mapping of the micro-areal endemic species strictly adapted to permanently humid soil conditions, and its haplotypes, along all of the slopes of the Bale Mountains allows
  ⦁ quantification of the minimum forested area during LGM,
  ⦁ detailed localization of the forest refugia
  ⦁ raw quantification of surface water discharge from the Bale Highland during the driest period of the last glaciation.
Additional taxon sampling from mountains of northern and western Ethiopia, together with an improved dating of the respective phylogenies and phylogeographies which allows allocation of paleo-forests to specific mountains of Ethiopia. 
A detailed mapping of the unexpectedly high micro-areal endemic species diversity including their haplotypes which considers a significant portion of the existent Bale drainage system, together with an improved dating of the phylogeographies of the respective lineages, will allow estimation of the lLGM ∆T with high precision.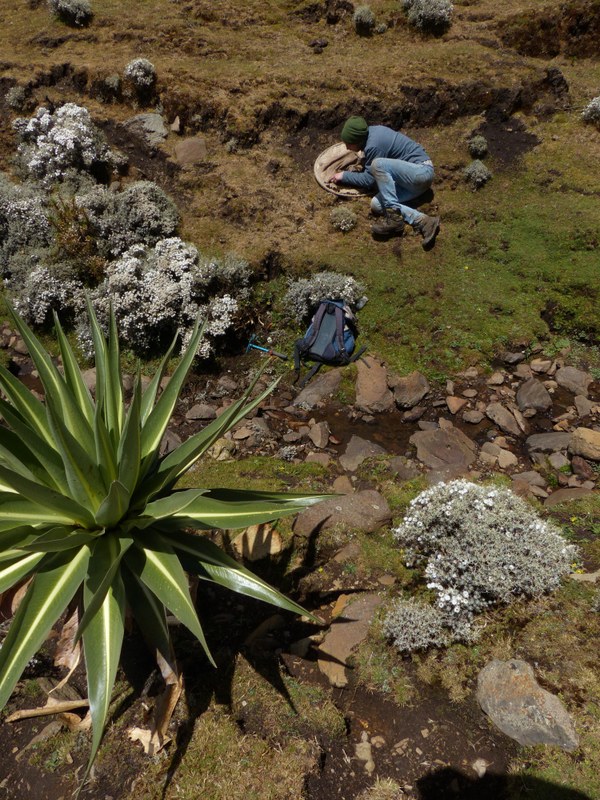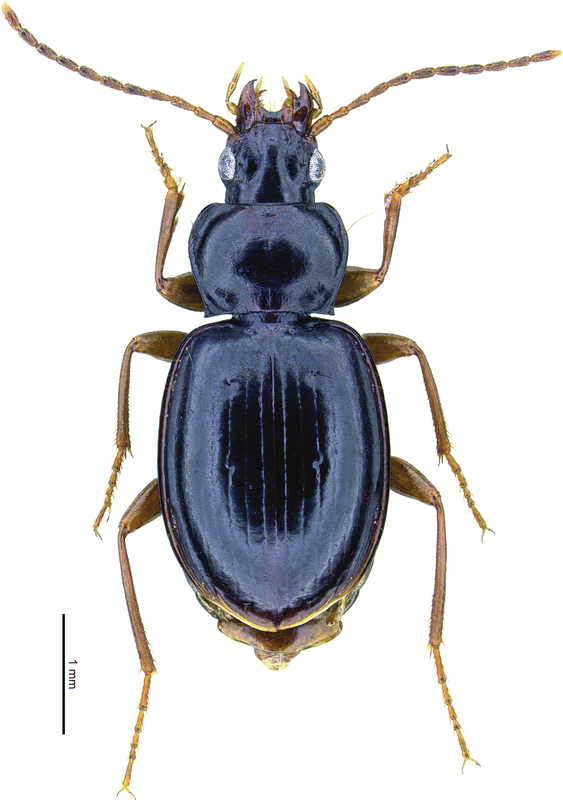 Figure 1 & 2:  Analysing soil samples in field for ground beetles;  Trechus mekbibi (Schmidt & Faille 2018)
Publications
Ossendorf G, Groos AR, Bromm T, Tekelemariam MG, Glaser B, Lesur J, Schmidt J, Akçar N, Bekele T, Beldados A, Demissew S, Kahsay TH, Nash BP, Nauss T, Negash A, Nemomissa S, Veit H, Vogelsang R, Woldu Z, Zech W, Opgenoorth L & Miehe G (2019) Middle Stone Age foragers resided in high elevations of the glaciated Bale Mountains, Ethiopia, Science 365 (2019), 583-587.
DOI: 10.1126/science.aaw8942
Schmidt J & Faille A (2018) Revision of Trechus Clairville, 1806 of the Bale Mountains and adjacent volcanos, Ethiopia (Coleoptera, Carabidae, Trechini). European Journal of Taxonomy 446, 1–82.
https://doi.org/10.5852/ejt.2018.446