Main Content
Skadi Loist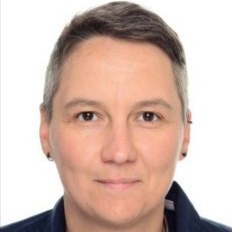 Affiliation
Film University Babelsberg
Queer*Media*Studies
Film Circulation
E-Mail: s.loist[at]filmuniversitaet.de
Twitter: @skadiloist
ORCID: https://orcid.org/0000-0002-8299-4103
Research Areas
Film Festivals; Circulation & Distribution; Gender Equality and Diversity in Media Industries; Queer Cinema; Data Visualization
Biography
Skadi Loist is a professor for Production Cultures in Audiovisual Media Industries at the Film University Babelsberg "Konrad Wolf" in Potsdam and PI of the research project "Film Circulation on the International Film Festival Network and the Impact on Global Film Culture" (2017–2021) funded by the German Ministry of Education and Research (BMBF). Skadi is cofounder of the Film Festival Research Network (FFRN), a Steering Committee member of NECS and Editorial Board member of NECSUS: European Journal of Media Studies. She is the Head of Research for the European Women's Audiovisual Network (EWA) and co-developed the workshop "Beyond stereotypes: gender-conscious storytelling", a cooperation of the Erich-Pommer-Institut, the MaLisa foundation and the Film University. She has published widely on film festivals, queer film culture and gender media studies, and edited the textbook Film Festivals: History, Theory, Method, Practice (with Marijke de Valck and Brendan Kredell, 2016); "Teaching European Cinema: The European University Film Award (EUFA) Project" a dossier in Alphaville 14/2017; "Queer/ing Film Festivals" a special issue of Studies in European Cinema (15:1, 2018, with Leanne Dawson); and "Gendered Media Production" a special section of Media Industries journal (6:1, 2019, with Deb Verhoeven).
Current Research
"Film Circulation on the International Film Festival Network and the Impact on Global Film Culture" (2017–2021)
The Film Circulation project aims to create a large data set of festival runs for films circulating within the festival network based on the complete program of six major film festivals, documenting the run from premiere to the end of its festival life. This data collection forms the basis for the development of a new method for the visualization of the complex temporal and spatial circulation patterns of the films in the festival network: mapping the festival runs. The project uses approaches from the digital humanities and geo-visualization in order to develop new analytical methods for Film Studies. Further analysis of this mapping attempts a nuanced evaluation about how films circulate, depending on parameters such as country of origin, genre, budget within the far-reaching festival network, and how festivals influence the distribution of films in global film culture.
Kinomatics: The Industrial Geometry of Culture
The Kinomatics Project collects, explores, analyses and represents data about the creative industries. Our research is collaborative and interdisciplinary. Our current focus is on the spatial and temporal dimensions of international film flow and the location of Australian live music gigs.
Network-related Publications (selection)
◦ Loist, S. (2016). The Film Festival Circuit: Networks, Hierarchies, and Circulation. In M. de Valck, B. Kredell, & S. Loist (Eds.), Film Festivals: History, Theory, Method, Practice (pp. 49–64). London, New York: Routledge. https://doi.org/10.4324/9781315637167-13
◦ Loist, S., & Samoilova, Z. (2019, May 8). Open Media Studies und Digitale Methoden: Zur Erforschung von Filmfestivalruns. Open-Media-Studies-Blog der Zeitschrift für Medienwissenschaft (ZfM). Retrieved from https://www.zfmedienwissenschaft.de/online/blog/digitale-methoden
◦ Loist, S., & Samoilova, Z. (2019, October 29). Getting Started on the Film Circulation Project: Studying Film Festivals with Various Data Sources. Film Circulation. Retrieved from http://www.filmcirculation.net/2019/10/29/getting-started-on-the-film-circulation-project/
◦ Samoilova, Z., & Loist, S. (2019). Using a Feminist and Inclusive Approach for Gender Identification in Film Research. In ADHO (Chair), Digital Humanities 2019 "Complexities". Poster presented at the meeting of ADHO, Utrecht. Retrieved from https://dev.clariah.nl/files/dh2019/boa/0790.html