Main Content
Publications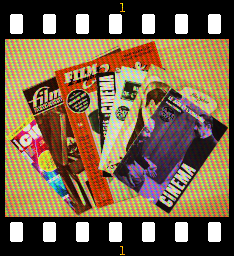 5. (with Alice Morin and Jens Ruchatz): "Logics of Re-Using Photographs: Negotiating the Mediality of the Magazine". In: Journal of European Periodical Studies 7(2), 2023, S. 26–51. doi: https://doi.org/10.21825/jeps.84858 (Open Access).

4. Fröhlich, Vincent: "Periodizität". In: Oliver Scheiding/Sabina Fazli (Hg.): Handbuch Zeitschriftenforschung. Disziplinäre Perspektiven und empirische Sondierungen. Bielefeld: transcript, 2023, S. 65–84 (Open Access).

3. Fröhlich, Vincent: "Foto Film Flächen. Zirkulierende Filmbilder in Medienkonstellationen illustrierter Filmzeitschriften". In: Fotogeschichte. Beiträge zur Geschichte und Ästhetik der Fotografie, Heft 164, Jg. 42, 2022. Sonderheft: "Zirkulierende Bilder. Fotografien in Zeitschriften" herausgegeben von Joachim Sieber, S. 25-35.

2. Fröhlich, Vincent: "Where the Film Has the (Visual) Word? On the Visuality and Materiality of Illustrated Film Magazines Exemplified by Neue Filmwelt (1947-1953)." In: periodICON, Volume 1, Ausgabe 1, December 2021, pp. 21-48. https://doi.org/10.46586/PerIc.2021.1.21-48.

1. Fröhlich, Vincent: "Die vielen fotografischen Papierbilder des Films. Über Präsentationsformen von Filmstills." In: Rundbrief Fotografie, Vol. 27, Nr. 3, 2020, S. 8-21.