Main Content
How to find the Lahnberge Campus
click preview to enlarge maps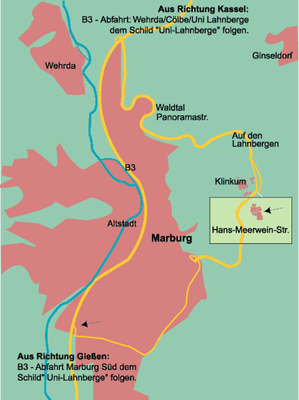 By car
Arriving from the north (direction Kassel) on the federal highway B3 take the exit "Wehrda" and follow the "Neue Kasseler Straße" till road signs "Uni-Lahnberge" lead your way uphill to the Lahnberge Campus. Follow the signs to "Hans-Meerwein-Straße".
Arriving from the south (Gießen/Frankfurt) take the exit "Marburg-Süd" and follow the signs to "Uni-Lahnberge" way uphill to "Hans-Meerwein-Straße".
At the gate push the receiver button and you will be let in as Prof. Koch's guest. Follow the road all the way down behind the building. Construction works are done all over the campus and parking of guests is tolerated along the pathways.  
By bus
from the main station:
You find the bus stop in front of the train station. Bus number 7 direction Lahnberge will take you to our offices.
from Südbahnhof (train station Marburg south) or the city:
Take bus number 7 direction Lahnberge (Uni-Klinikum) or, alternatively, you may take number 9 direction Lahnberge (Uni-Klinikum).
Weekdays the bus arrives every 20 minutes, the ride to the Lahnberge takes about 13 minutes and a single ride costs 3,25€ (a day ticket 6,35€). Leave the bus at Hans-Meerwein-Straße and find your way through the campus with our map.
On the Campus:
GPS-Coordinates: Semiconductor photonics group, Lahnberge: 50°48'32.6"N 8°48'37.1"E