Main Content
Welcome to the Mineralogical Museum of the Philipps-Universität Marburg!
Located in a granary building from the early 16th century, about 2500 outstanding specimens from all over the globe will introduce you to the fascinating world of minerals and rocks.
Opening hours & admission fees & guided tours
The museum is momentarily closed due to renovation work  
How to find us
You can find the Museum right next to the St. Elisabeth church in Marburg.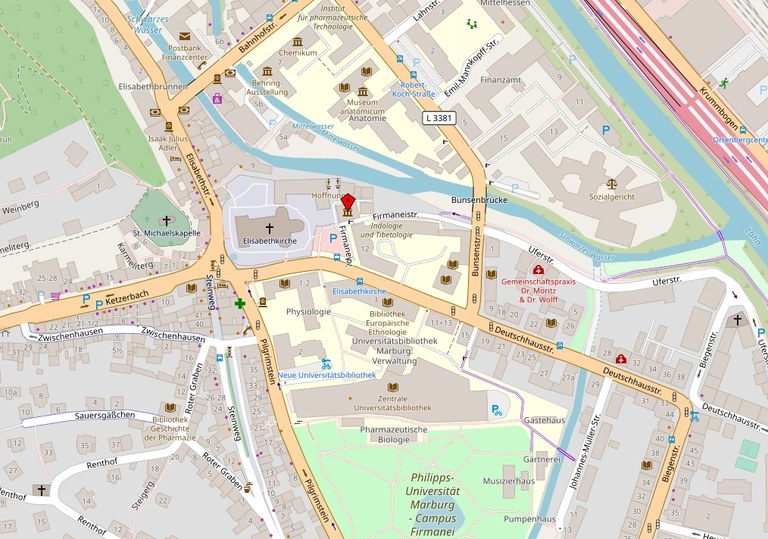 Our address is:
Mineralogisches Museum der Philipps-Universität Marburg
Firmaneiplatz
D-35032 Marburg
Shop
In our Museum Shop, visitors can purchase small mineral specimens and literature on the exhibitions.
During the closure of the museum, a limited sale is possible by appointment (06421 28 22244 or michelre@staff.uni-marburg.de).
Exclusively available are the reports of Alfred Wegener and Franz Richarz on the meteorite of Treysa, which were published as a reprint for the 475th anniversary of the Philipps University in 2002. The publication (in German) with the title "Das detonierende Meteor vom 3. April 1916, 3 ½ Uhr nachmittags in Kurhessen. Auffindung, Beschreibung und vorläufige physikalische Untersuchung des Meteoriten von Treysa" can be purchased for 12 Euro.