Main Content
Self-Administration via Web Form - Quick Guide
For functional accounts, the self-administration web form can be activated or deactivated during the application process. The operation of self-administration is explained below.
Step 1: Calling up the self-administration web form
At https://admin.staff.uni-marburg.de/faverw.html, you as the administrator receive an overview of the self-administered function accounts assigned to you. To do this, log in with your personal Staff or Student Account. You can then activate or block the function accounts as you wish.
Step 2: Select function accounts
First, use the checkbox to select the accounts you want to modify:
"Expiration Date (Password)" indicates the date when early in the morning the current password will be replaced by an unknown password.
"Expiration date (Account)" shows the maximum date until which the account can be managed via self-management web form.
"Last Password Change" shows the date and time when you or the account user last changed the password.
Under "Comment" you will find the last action performed by an administrator or by the system.
Step 3: Select action
Enter your personal login data again here (Staff or Students username and password) and select the desired action:
"Lock immediately" replaces current passwords with unknown passwords, rendering an account unusable.
"Unlock until" generates new passwords and sets the password expiration date (max. 1 year!) - also for re-activation in case of a forgotten password. You will then receive the access data by e-mail.
"Extend until" changes the password expiration date (max. 1 year!) - also a shortening is possible.
Example:
The following example shows the management of five function accounts numbered in ascending order, of which the fourth is currently being activated for a new guest: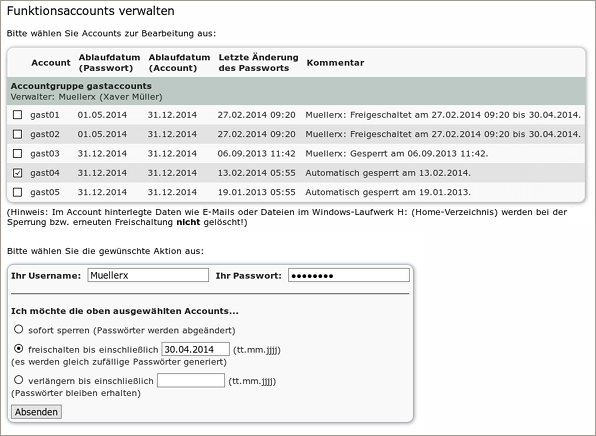 For each activation, you will immediately receive an e-mail with the new access data as well as further instructions: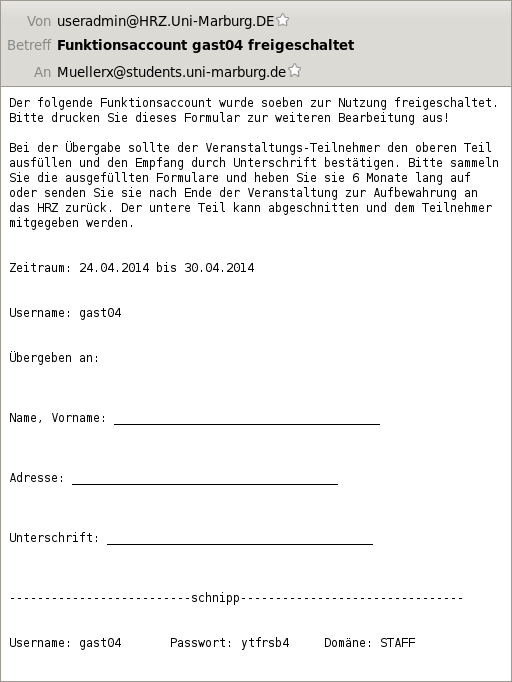 If a function account is passed on to further persons, the former data on the account will remain unchanged. Therefore, please take care not to store personal data and e-mails on the account that are intended solely for the current user and not for other persons.