Main Content
Research topics and funding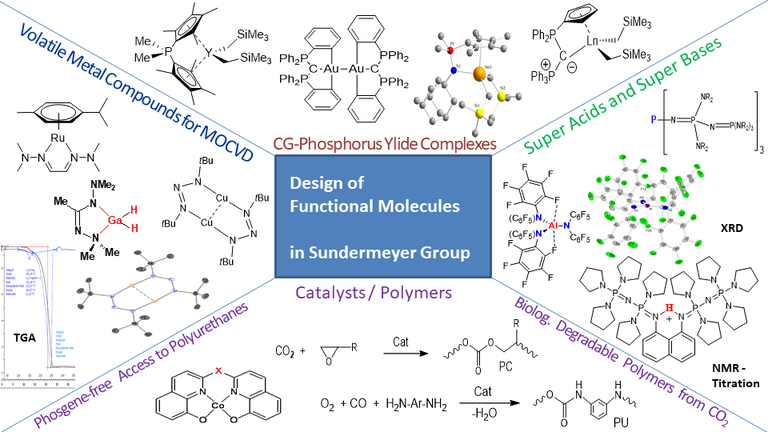 The group is engaged in metal containing functional molecules' research and their application in manufacturing functional materials. Sustainable syntheses of polymers and materials of energy conversion are the focal point: Design of uncharged Lewis superacids with higher fluoride ion affinity than SbF5 as well as the strongest uncharged superbases for catalytic applications. Design of molecular catalysts for the synthesis of polymers such as polyolefins via coordination polymerisation, polyurethanes via oxycarbonylation of amines, polycarbonates via CO2 -alkylene oxide copolymerisation and polyesters via ring opening polymerisation of lactones and dilactides (for further information see here).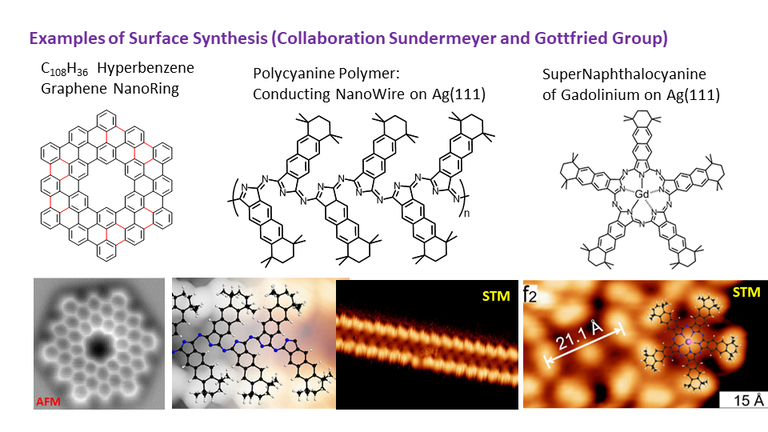 Synthesising and band-gap-tuning of conductive polymers such as graphene nanoribbons, nanorings, porous nanographenes and of polycyanines via M(111) on-surface synthesis (for further information see here).
Design of organic semiconductors and OLED emitters for thermally activated delayed fluorescence. Design of MOCVD precursors for gas phase deposition of III-V and other semiconducting materials or deposition of metals, metal oxides and nitrides (metallic and mixed ionic electronic conductors). Solvent based inks for a printed electronics approach towards chalcogenide-based semiconductor materials (MoS2, CuInxGa1-xS2). In the area of electrolytes, focus is put on functional ionic liquids, new lithium electrolytes, solid electrolyte interface builders and redox mediators for solar cell and battery applications (for further information see here).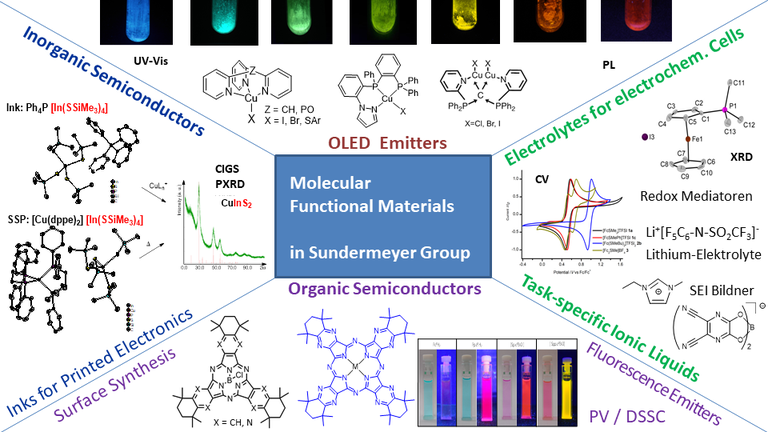 The results are documented in more than 50 patent families and more than 200 publications. You will find an overview of the funding of the group in the next illustration (for further information see here).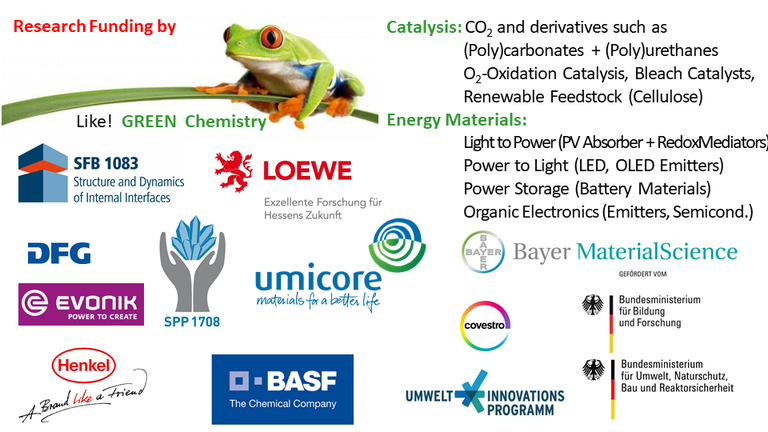 Current research focus:
Neutral superbases and their application in catalysis
Design of molecular catalysts for the synthesis of polymers such as polyolefins via coordination polymerisation, polyurethanes via oxycarbonylation of amines, polycarbonates via CO2-alkylene oxide copolymerisation and polyesters via ring opening polymerisation of lactones and dilactide
Synthesising and band-gap-tuning of conductive polymers such as graphene nanoribbons, nanorings, porous nanographenes and of polycyanines via M(111) on-surface synthesis
Design of organic semiconductors and OLED emitters for thermally activated delayed fluorescence
Design of MOCVD precursors for gas phase deposition of III-V and other semiconductors or high-k materials, the deposition of metals, metal oxides and nitrides (metallic and mixed ionic electronic conductors)
Solvent based inks for a printed electronics approach towards chalcogenide-based semiconductor materials such as MoS2, CuInxGa1-xS2 or Cu2ZnSnSxSe4-x
In the area of electrolytes, focus is put on functional ionic liquids, new lithium electrolytes, solid electrolyte interface builders and redox mediators for solar cell and battery applications