Main Content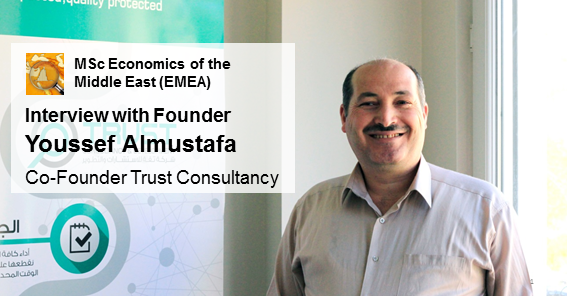 Who is Youssef Almustafa?
Syrian, 44 years old, MSc in Political Economy of Development from SOAS, University of London, and MA in Economic Change in the Arab Region (ECAR) from Marburg, Germany (ed.note: MA ECAR is the precursor programme of EMEA). I moved to Turkey in late 2013 thanks to the severe crisis in Syria and joined the humanitarian sector since then. Now, I am a director of a consultancy (Trust Consultancy and Development) that I co-founded with a friend of mine in Gaziantep, Turkey.
How would you describe Trust Consultancy and Development (TCD) in two sentences?
It is a consultancy that is specialized in monitoring and evaluation of humanitarian and development projects, which also provides training. It is new, just 8 months old. However, it is promising as we already have contracts with big NGOs such as Global Communities, Relief International and World Vision.
What were you doing before you started TCD?
I worked for many NGOs in Turkey and Syria such as the Irish NGO GOAL, the Norwegian NGO NRC, and the American NGO CARE. Before joining the humanitarian sector in 2013, I worked as a General Manager at the Syrian social organization 'National Fund for Social Aid'.
What motivated you to create your own business?
I found a gap in the third party monitoring market in terms of quality and quantity. So, I decided to co-found it in Turkey and Syria and we plan to expand these services to the MENA region as a whole.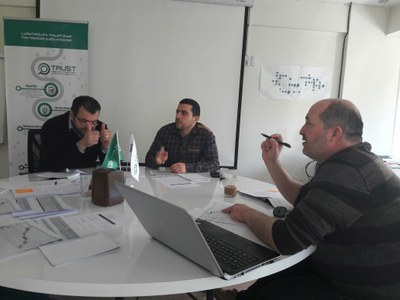 Becoming self-employed is a bold step requiring you to take risks. How did you approach this move?
I believe that everyone should have an own business after many years of experience. The steps to an own business are: (1) working for others as a full time staff, then (2) moving on to be an independent consultant, and (3) opening your own business. Of course, when you open a new business, you should have already built a strong and wide network as relations are key for a successful business. In addition, one should recruit from the very beginning excellent consultants/ staff to build the business; a good team is a must!
Could you describe the feeling you had the moment you secured your first customer/contract?
As I said before, one cannot make a successful move to an own consultancy/ business without a good network. When I took this step, I had already many opportunities to work on. However, once I had the first contract as a consultancy (not as a consultant), I was very happy even though the size of the contract was not large.
How has your journey been afterwards? What have you learned so far?
Given that our consultancy was co-funded only 8-9 months ago, I would say it is promising and we are getting more and more contracts and some of them with big NGOs. Also, in addition to monitoring, evaluation, and training services, we expand to offering Arabic - English translation services.
Have you hit any big obstacles? How did you deal with them?
The main obstacle we faced relates to the few staff members we have and the high workload that we encountered; so, as we are still in the beginning, we cannot recruit enough staff; we rather try to move tasks between staff and departments; this high level of flexibility is sometimes not easy for the staff and the management as well. When possible, we recruit more staff and, more importantly, we have established a pool of consultants. If necessary, we can contract international experts.
Where do you see TCD going in the next years?
I think we will grow and offer more services. In addition, we will have offices or local partners in a number of MENA countries. We also plan to have partnerships with big companies and consultancies all over the world when they have contracts in the MENA region.
Is there anyone whom you would like to send a message or thanks?
Yes, I would like to thank so much our staff for their headwork and for the great efforts; our capital is our lovely team who is composed of local staff, international staff, and interns from different countries. We have two staff members who studied in Marburg (DAAD scholarships, ECAR/ Sarah Muharram and myself), three interns who finished their MSc in SOAS, University of London, and the rest of the staff who are local. Also, I am pleased to mention that Trust receives interns and some of them work remotely (one intern is MA student in Manchester University).
Contact:
Youssef Almustafa
Director and Co-founder | Trust Consultancy & Development (TCD)
Tel: 0090 5349292350
Skype: youssef almustafa (or use yousef.almustafa@hotmail.com as the skype name)
Mail: youssef.almustafa@trustconsultancy.org
LinkedIn Profile
http://trustconsultancy.org/
https://www.facebook.com/TCDGaziantep/