Lina Romankiewicz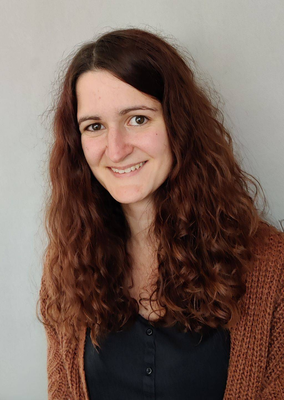 Stipendiatin, IPAM-Auszubildende
Contact information
+49 6421 28-24052
lina.romankiewicz@ 1
Gutenbergstraße 18




35032

Marburg




G|01 Institutsgebäude

(Room: 03056 resp. +3056)
Research interests
Expectations in psychotherapy
Psychotherapy research
Curriculum Vitae
Education

Since 07/2022
PhD in Psychology (Dr. rer. nat.), Philipps University of Marburg, Department of Psychology, Division of Clinical Psychology and Psychological Treatment, Advisor: Dr. Marcel Wilhelm

Since 07/2022
Postgraduate training in cognitive behavioral therapy, Institut für Psychotherapieausbildung Marburg (IPAM)

10/2019 – 05/2022
Master in Psychology (M.Sc.), University of Münster (M.Sc.)
Thesis: "Linking vascular risk factors to depressive symptoms – low-grade systemic inflammation as a possible mediator"

09/2016 – 09/2019
Bachelor in Psychology (B.Sc.), University of Münster (M.Sc.)
Thesis: "Hospitalisierung und Krankheitsdauer in Zusammenhang mit Hippocampusvolumen bei Major Depression"

Professional Experience

Since 07/2022
PhD-Scholarship, Philipps University of Marburg, Department of Psychology, Division of Clinical Psychology and Psychological Treatment

Since 07/2022
Clinical Psychologist, Outpatient Clinic for Psychological Interventions, Psychotherapie Ambulanz Marburg (PAM)

09/2021-03/2022
Internship, Milton Erickson Institute Rottweil, Dipl. Psych. Bernhard Trenkle

06/2019-09/2021
Student assistant and research assistant with bachelor's degree, Institute for Translational Psychiatry, University Medical Center of Münster, Prof. Dr. Dr. Udo Dannlowski

10/2018-05/2019
Internship und Bachelor Thesis, Institute for Translational Psychiatry, University Medical Center of Münster, Prof. Dr. Dr. Udo Dannlowski

02/2018-04/2018
Internship, Department of Psychosomatics at SLK-Klinik für Kinderheilkunde und Jugendmedizin Heilbronn

09/2015-08/2016
Voluntary Social Year (FSJ), Klinikum am Weissenhof Weinsberg
Publications
Articles in Journals

Lemke, H., Romankiewicz, L., Förster, K., Meinert, S., Waltemate, L., Fingas, S. M., ... & Dannlowski, U. (2022). Association of disease course and brain structural alterations in major depressive disorder. Depression and Anxiety, 39(5), 441-451.

Romankiewicz, L., Schaare, H. L., Nestler, S., Villringer, A., & Blöchl, M. (2023). Mediation of the Association Between Vascular Risk Factors and Depressive Symptoms by C-Reactive Protein. Biological Psychiatry Global Open Science.
Hint:
In case of inaccurate personal data, please inform the appropriate Personnel Data Agent.
1
The email addresses are only selectable in the intranet. To complete an email address, merge following string ".uni-marburg.de" or "uni-marburg.de" to the end of the email address.