Main Content
NUM
NUM Network University Medicine on COVID-19
Providing patients with optimal care, preventing infections and expanding health care is the mission statement of the Network University Medicine (NUM), which was founded in spring 2020.
The NUM network is currently bundling research activities to cope with the Covid-19 pandemic and is opening up new strategies for action. Funded by the Federal Ministry of Education and Research and coordinated by the Charité - Universitätsmedizin Berlin, the research network is working on solutions for the best possible health care and pandemic preparedness with the participation of all 36 German university medicine sites and other partners.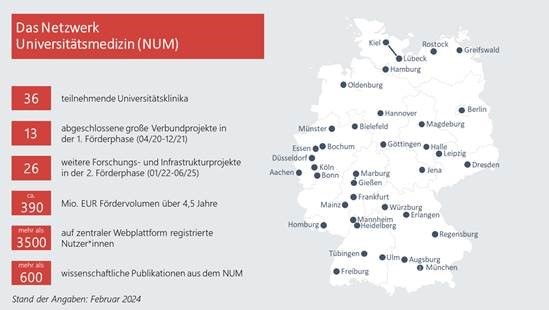 The primary activities are based on clinical research and healthcare research – the results of which directly benefit patients, flow into crisis management and contribute to the development of a sustainable, national research infrastructure. To implement this task, the NUM and the participating will be provided with up to €400 million for collaborative projects until the end of 2024.
In the medium term, the objective is to also use these NUM structures and concepts for research into other clinical disease patterns and generally for cooperative research in university medicine.
With the "National Network of University Medicine on COVID-19", the Federal Ministry of Education and Research (BMBF) - project executing organization DLR - has been bundling and strengthening research activities in German university hospitals to fight against COVID-19 pandemic since March 2020. Priority topics were defined for the university medicine network, on which cross-clinic research projects have been started since mid-2020. Our Marburg and Gießen locations participated in various projects in the first funding phase and will continue to develop various projects from 2022 onwards.
For more information, please click here
Contact:
Email: sabine.feig@uni-marburg.de