Main Content
Halqa arabiyya: A chance to practice academic Arabic at the CNMS!
Our goal
The Halqa arabiyya offers students, teachers, and scholars an opportunity to present and discuss topics of their studies and research. The goal is to practice Arabic as a modern and live academic language at CNMS, which should be conducive to "de-exoticizing" it within the paradigm of post-colonial teaching and scholarship.
What happens at the meetings?
In a relaxed atmosphere, with tea and cookies, we are trying to promote the active use of spoken Arabic. It is not the point to talk without mistakes or to understand everything. What is more important, is attempting to communicate and exchange ideas with your colleagues. The normal length of the talks is fifteen minutes, followed by a discussion. In addition, short five-minute presentations are also welcome.
The team of the Halqa arabiyya supports all the presenters in the preparation of their talks. Furthermore, you can find additional information and word lists for independent study at Ilias in the section "Halqa arabiyya/Kolloquium Wissenschaftsarabisch". Those who made a presentation and actively participated in Halqa arabiyya for at least one semester receive an official attendance certificate.
The Digital Lecture Series
Since 2020, the program of the Halqa arabiyya is completed by a digital series of Arabic lectures. In short videos with Arabic subtitles, native and non-native scholars from all over the world present their research in Arabic, for instance on trauma in post-civil-war Lebanese literature, on the notion of integration in Germany, and the Muslim reading of history. The videos are released on our Facebook-Website and on our YouTube Channel.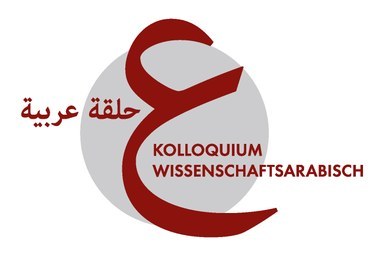 The program of the summer term 2023:
Room:00A23 
Time: 6-8 p.m.
27.04.2023
Ahmed Sheir (Postdoc Islamwissenschaft):
"The Cairo Genizah Arabic Poetry as a Shared Cultural-religious Space"
Mina Ibrahim (Postdoc FuK):
"Das Shubra-Archiv: Von der Straßenbahn bis zum Alltagsleben der Häuser"
17.05.2023
Ibraheem Shaheen (Doktorand Islamwissenschaft):
"Übersetzerische und interkulturelle Aspekte beim Übersetzen des
deutschen Familienrechts ins Arabische"
Emma Grünenfelder (BA NMS int.) mit Ahmed Muhammad (Doktorand Psychologie):
"Arabische Kinderbücher und Kinderpsychologie"
25.05.2023
Gastvortrag von Dr Nadia Naqrash (Amman University):
"Arabische Sprichwörter und Redewendungen zum Thema Tiere (mit Fokus auf
jordanisches-Arabisch)"
14.06.2023
Lina Blumenröder (BA NMS):
"Die wirtschaftlichen und diplomatischen Beziehungen zwischen Deutschland und Marokko."
21.06.2023
Gastvortrag Hanan Jasim (Universitat Autònoma de Barcelona): "Der arabischsprachige Master in Barcelona: Chancen, Erfahrungen, Herausforderungen"
What happened thus far
Since the foundation of the Halqa arabiyya in 2017, some forty participants presented at this forum on such topics such as "The role of trade unions in the Arab Spring", "Muslim dating platforms in Germany" or "Arabic language mentality and emancipation on the brink of modernity". Furthermore, each semester a plenary invitational talk in Arabic takes place. For example, the cooperation with the program "CNMS meets Refugees" resulted in the invitation of the Syrian writer Rosa Yassin Hassan, the American political scientist Wendy Pearlman and the Syrian intellectual Yasin al-Hajj Saleh. The Semester program is concluded with an open discussion session on topics such as "Sport from the perspective of Cultural studies" or "Arabic as academic language in Near and Middle Eastern Studies".
Archive
Recent publications on Academic Arabic
Christian Junge (2019): "Touching Language! Postcolonial Knowledge Production, Language Practice and Arabic Studies in Germany" (Online)
Vera Tsukanova/Michael Waltisberg (2019): "Arabic as a Scholarly Language? Pitfalls of Multilingualism in Scholarship" (Online)
Christian Junge (2021): "Why Non-European Languages Matter to European Humanities: Area Studies and Postcolonial Philology" (Online: English and Arabic)
Christian Junge/Barbara Winckler (2022): الدراسات العربية في غياب العربية؟ اللغة العربية الأكاديميةً في المانيا
Additional Links:
Halqa arabiyya on Facebook
Halqa arabiyya on YouTube