Main Content
Germanistische Linguistik
Germanistische Linguistik (GL) publishes high-quality studies with a focus on the German language. This includes the individual system levels and their interfaces, the function of language in social life and culture as well as the role of language in communication. Also welcome are studies on the variation and change in language as well es contrastive perspectives. In addition, GL takes a look at developments and trends in the subject and is open to methodological reflection in particular. In this way, GL raises fundamental questions of German linguistics and to those topics that have a particular influence on the discipline.

GL specializes in the publication of thematic volumes. Each issue is devoted to a defined topic under the responsibility of a changing editor. Suggestions for such topics are always welcome; an overview of previous issues can be found in the GL index. Publication of monographs or thematically non-coherent conferences (proceedings) is not intended.

GL is one of the traditional organs of German linguistics. Two to three thematic issues are published annually. Contributions are published in both German and English. The quality of the contributions is ensured by peer reviewing.

As a journal, GL supports open access to scientific contributions. All volumes published from 2012 onwards are therefore available as ebooks for free download with a grace period of 12 months. The individual volumes can be viewed under complete index.
Current issue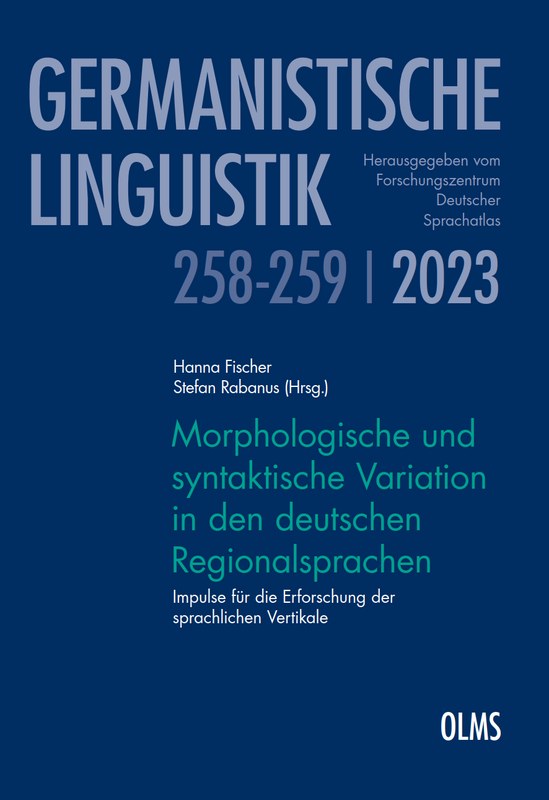 GL 258–259/2023
Hanna Fischer / Stefan Rabanus (ed.) (2023)
Morphologische und syntaktische Variation in den deutschen Regionalsprachen
Impulse für die Erforschung der sprachlichen Vertikale
Die Erforschung der sprachlichen Vertikale hat in der deutschen Sprachwissenschaft eine lange Tradition; die regional geprägte Alltagssprache wurde schon früh als Sprechweise mit eigenen Sprachformen identifiziert und zum Gegenstand linguistischer Beschreibung gemacht. Dabei wurde hauptsächlich – wenn auch nicht ausschließlich – Bezug auf die Lautebene genommen. Um die sprachliche Struktur der Regionalsprachen auch jenseits der Lautebene beschreiben zu können, more...