Main Content
Kontakt & Lageplan
Philipps-Universität Marburg
Museum of Religions (Religionskundliche Sammlung)
Landgraf-Philipp-Strasse 4
35037 Marburg
Tel. 06421 28-22480
E-Mail: relsamm@uni-marburg.de
ISIL: DE-MUS-091714
Interactive Map to the Museum of Religions (Religionskundliche Sammlung)/Gebäude S|02 Landgrave's Chancellery (Landgräfliche Kanzlei)
Arriving by bus and train
From the Marburg central train station, take a bus (Line 3, 4, 5, 6, 1, 7) to the Rudolphsplatz stop. Look for the Welcome Hotel; directly opposite of it is the "Oberstadt-Aufzug," a lift which takes you to the Old Town. Exit the lift to the right and then turn left into "Marktgasse" which will lead you to the market square. Now turn right and cross the square uphill towards the Weinlädle restaurant. To the left of the restaurant you will see the "Schlossbergtreppe" (castle steps) which lead to Landgraf-Philipp-Strasse. Take that street a few meters in the direction of the castle and then go left through the archway in the large retaining wall. You will be standing in front of the historic building which houses the Museum of Religions.
Arriving by car, deliveries and parking
The museum is located in the Old Town of Marburg and is accessible only via Sybelstrasse. At the end of Sybelstrasse is the "Kalbstor," a gate in the Old City wall. The access is very narrow – 2.5 meters high and 2 meters wide. Drive through the gate, taking a slight left onto Ritterstrasse. The next possible left, which is unmarked, is Landgraf-Philipp-Strasse and leads directly to the courtyard of the museum. Parking is very limited.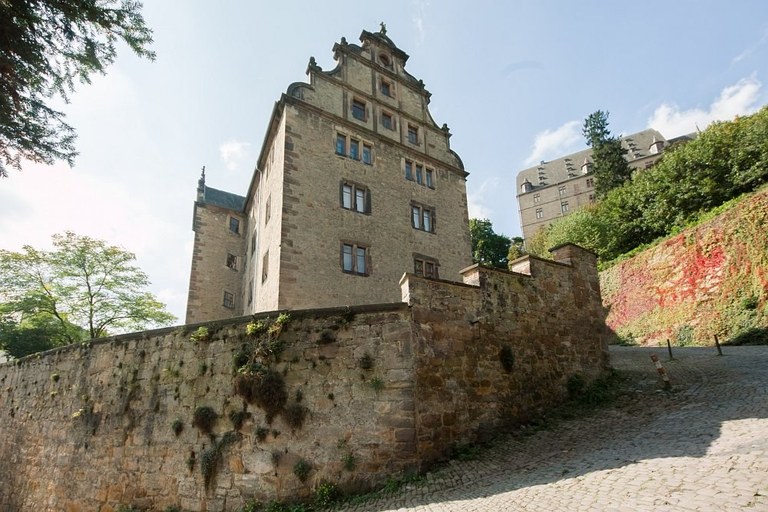 Barrier Free
Given the long history of our Old Town and our building, the path to the museum as well as the building itself is not barrier-free. The path leads up a steep road over cobblestones, and there is only one spiral staircase in the building that connects three floors of exhibitions. However, our employees endeavor to make it possible for everyone interested in visiting our collection and will make every effort to tailor a visit to your needs, including providing a guide. If you would like to visit and require special assistance, please contact us in advance by phone.