Main Content
Help to preserve the greenhouses for the future!
To preserve the Botanic Garden's precious plant splendor for the future, we need the help of many. Only together can we ensure that the greenhouses continue to provide space for important research and species conservation projects and enrich life in Marburg as a special extracurricular place of learning, an exciting excursion destination and a green oasis.
This is how you can get involved:
Help with a donation in an amount of your choice. Whether large or small - every donation counts!
Become a plant friend: starting with a donation of 35 euros. Or give the title "plant friend" to friends and relatives as a gift.
Become a square meter donor and symbolically take over one or more square meters of the renovation: with your donation starting at 240 euros.
Become a greenhouse sponsor: with a generous donation starting at 8,160 euros, you can finance the entire renovation costs of one of the 31 greenhouses and immortalize yourself with your name on a plaque in the Botanical Garden.
Your personal contact person: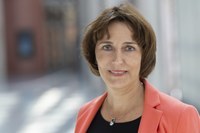 Iris Rubinich
Head of Unit Fundraising and Alumni Service
Biegenstraße 9
35032 Marburg
B|10 Institute Building (Room: 02026 or 00/0060)
+49 6421 28-25038
iris.rubinich@verwaltung.uni-marburg.de