Main Content
Working Group 17 Marburg Art History Doctoral Forum (2009–)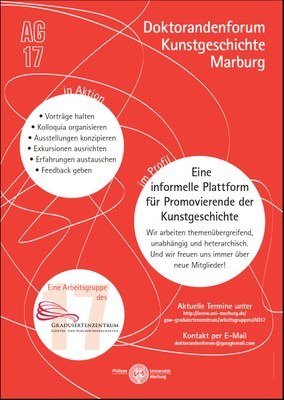 Dear Doctoral Candidates of Art History,

the Marburg Art History Doctoral Forum has been in existence since many years and is always happy to see new faces, even if you're just starting out with your doctoral studies and are still in the search process for your dissertation topic or if you are already editing your dissertation!

Out of the need for company on the journey through the complex world of academia, the idea arose in 2009 to found an informal platform for like-minded people. Our idea was to discuss within the framework of such a forum anything and everything related to doctoral candidacy in the field of art history. In this sort of working group, we all have the opportunity to present our own research project and to discuss questions and problems in a group. As a working group, we discuss and realize common projects and exchange experiences. We can also devote ourselves to current research issues, go on excursions and visit contemporary exhibitions. For the long term, there is the need for a willingness to collaborate as colleagues – or, as the modern day researcher says, NETWORKING.
We invite all doctoral candidates from the Marburg art history to join our working group – out of the ivory tower and into science!
Meetings with presentations and discussions take place in the conference/seminar room of the Art Building (room 00 014a).
Contact
Projects
Doctoral Colloquia in the series Zu beschreiben und zu sammeln sei die Kunst
9th Doctoral Colloquium Art History
on November 13, 2019 (Program (PDF))
8th Doctoral Colloquium Art History
on November 21, 2018 (Program (PDF))

7th Doctoral Colloquium Art History


on December 12, 2016 (Program (PDF)

)

6th Doctoral Colloquium Art History


on November 27, 2015 (Program (PDF)

)

5th Doctoral Colloquium Art History


on November 18, 2014 (Program (PDF)

)

4th Doctoral Colloquium Art History




on May 8, 2013 

(Program (PDF)

)

3rd Doctoral Colloquium Art History


on May 23, 2012 (Program (PDF)

)

2nd Doctoral Colloquium Art History


on May 4, 2011 (Program (PDF)

)

1st Doctoral Colloquium Art History


on April 8, 2010 (Program (PDF)

)

Exhibition in cooperation with




the Museum of Art and Cultural History


of the University of Marburg (Flyer (PDF)

)




February 4 – June 26, 2011